Today is the day of Queen Elizabeth II's funeral. She served as a monarch for a staggering 70 years, and her death sent shockwaves throughout the world. Now, after the customary 10 days of mourning, Elizabeth had a proper funeral service.
This service had a few unexpected moments and a few sweet ones, too. Here are the most memorable moments from Queen Elizabeth's funeral.
Joe and Jill Biden attended the Queen's funeral
Many world leaders received an invitation to the Queen's funeral. This includes French President Emmanuel Macron and Canadian Prime Minister Justin Trudeau. President Joe Biden was also invited, and he showed up bringing a bit of American exceptionalism with him.
You see, other world leaders arrived at the funeral via bus. But Joe and Jill Biden, after securing special permission to do so, arrived via the special presidential limousine nicknamed "The Beast." Incidentally, taking their own vehicle like this made it easier for the Bidens to head back to the U.S. after the funeral proceedings.
King Charles left a personal note on the Queen's coffin
Queen Elizabeth's coffin definitely stood out, in part because it was draped in a royal standard that honored all of the countries in the U.K., including England, Northern Ireland, Scotland, and Wales. Aside from the standard, her coffin was also covered with an array of colorful wreaths.
Amid those wreaths was a handwritten note from King Charles. It read, "In loving and devoted memory, Charles R." In this case, the R stands for "rex," the fancy Latin word for "King."
Kate and Meghan wore symbolic jewelry at the funeral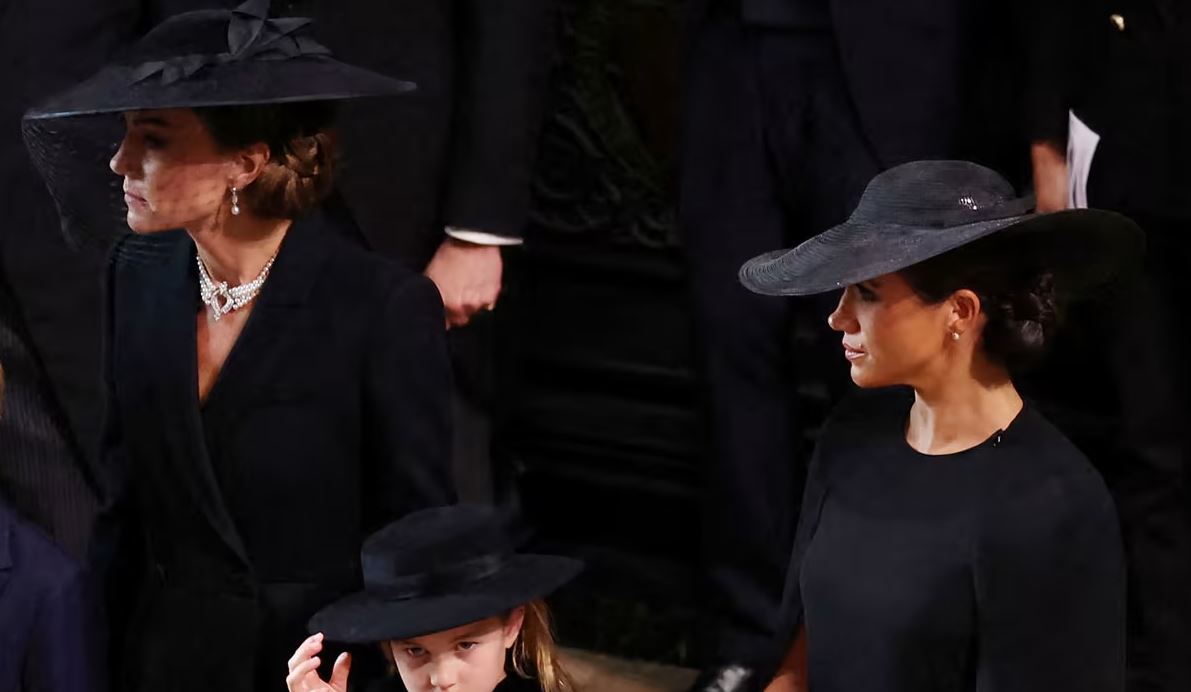 At a royal funeral, even little details like jewelry have special symbolic meanings. If you don't believe it, look no further than what Kate Middleton and Meghan Markle wore to the affair.
Kate's pearl-and-diamond choker, for example, belonged to the Queen. It was originally a gift to Elizabeth from Japan in the 1970s, and Kate has worn it on other special occasions (including Elizabeth and Philip's 70th wedding anniversary). If that's not stylish enough, Kate also wore pearl drop earrings that were gifted to the Queen by Bahrain for her wedding in 1947.
Not to be outdone, Meghan Markle wore diamond and pearl earrings that were gifted to her by Elizabeth. And these are the same earrings Meghan wore when she went on her first solo trip with Queen Elizabeth back in 2018.
Harry and Meghan got less prominent seating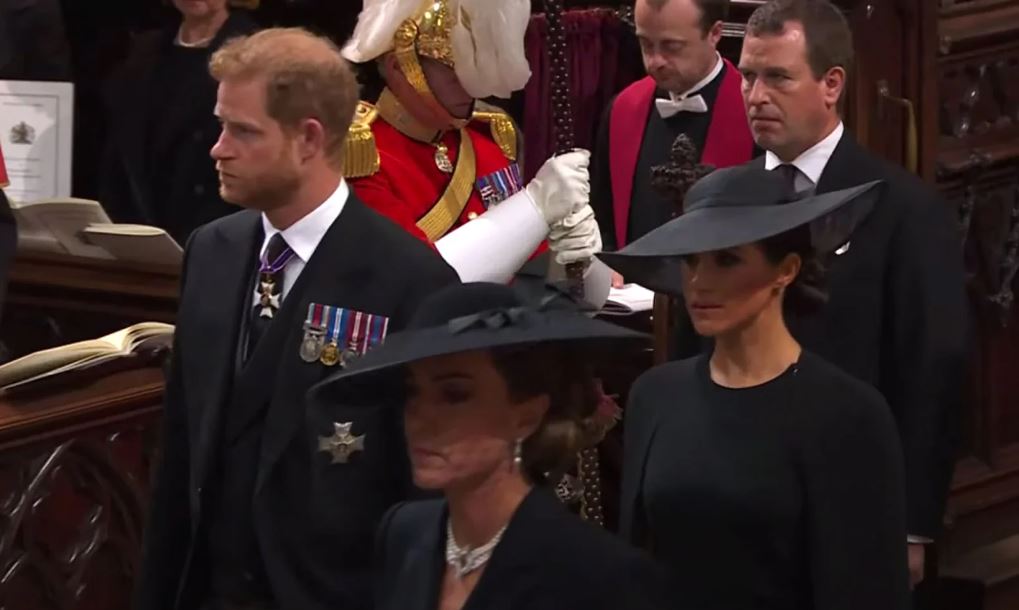 At a glance, it looks like Harry and Meghan were singled out for second-best seating. In the front row sat King Charles, Camilla Parker Bowles, Prince William, Kate Middleton, and William and Kate's children. Meanwhile, Harry and Meghan were relegated to the second row.
This may not have been intended as a slight. But considering that Harry couldn't wear his military uniform after stepping back from being a working royal, and considering that disgraced, Jeffrey Epstein-affiliated Prince Andrew sat in the front row, this likely seemed a slap in the face to Harry and Meghan.
A national moment of silence
The end of the Queen's funeral was heard around the U.K. Or maybe we should say "not heard" since the funeral ended with two minutes of silence throughout the lands.
After the silence ended, Westminster Abbey was filled with a song that simultaneously bid goodbye to Queen Elizabeth and hello to King Charles. That song? "God Save the King."