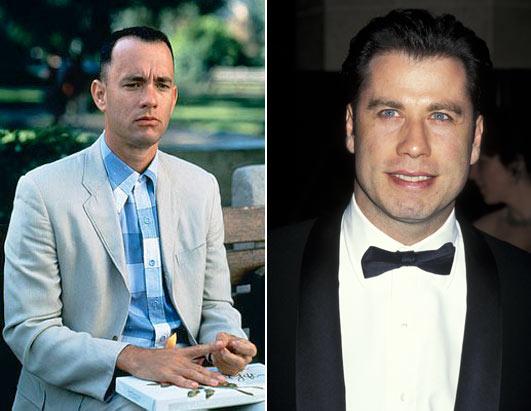 There are some movie roles that are so iconic they are irrevocably linked to the actor who portrayed them: think Sylvester Stallone as Rocky, Sigourney Weaver as Ripley, Tom Cruise as Jerry Maguire, and the list goes on. But what about the actors who got thiiis close to being cast, or worse, turned down what turned out to be an iconic role? Whether they've moved on from what could have been or are still kicking themselves for a poor decision, here are 10 actors who came this close to being cast in iconic roles.
John Travolta as Forrest Gump in "Forrest Gump"
Pretty mind blowing, huh? Yes, Travolta had first dibs at the role and turned it down. Which doesn't really make sense since at the time he was trying to make a career comeback and didn't really have a lot of choice roles to choose from. And yes, he regrets turning it down as a career blunder. Still, it gave Tom Hanks a way to continue steamrolling the box office, and Travolta would have to settle for a role in a little ensemble piece called "Pulp Fiction" instead. Considering "Pulp Fiction" resurrected his career, he made the right move!
Uma Thurman as Eowyn in "The Lord of the Rings"
Travolta's "Pulp Fiction" co-star and dance partner, Thurman noted in an interview with Stephen Colbert (a noted "Lord of the Rings" fan) that she was offered the role of Eowyn and turned it down. It's hard to believe that anyone would turn down a role in "The Lord of the Rings" trilogy, considering how the films became one of the biggest and most acclaimed franchises of all time. But you have to understand that nobody believed the project would be a success before it was made. Eowyn, the noble Rohan warrior maiden, ended up going to Australian actress Miranda Otto, who memorably slew the Witch King with the line "I am no man." It probably worked out best for audience suspense in retrospect — the Nazgul wouldn't stand a chance against The Bride from "Kill Bill."
Gwyneth Paltrow as Rose in "Titanic"
This massively popular, Oscar-winning juggernaut is iconic in no small part because Kate Winslet and Leonardo DiCaprio as doomed lovebirds Jack and Rose are perfect in their roles. But the role that made Kate Winslet a household name nearly went to Gwyneth Paltrow instead! Paltrow confirmed the rumor in an interview with Howard Stern, but denies that she turned down the role. "I know that the story is that I turned it down. I think I was really in contention for it, I was one of the last two." For whatever reason, James Cameron gave the part to Winslet and the rest is box office history: it became the highest-grossing film of all-time during its initial release in 1998 with $1.8 billion, a title it held for 12 years until Cameron's own "Avatar" dethroned it in 2010.
Kate Winslet as Viola in "Shakespeare In Love"
Don't feel too bad for Paltrow missing out on "Titanic" residuals. Just a year after getting the role of Rose, Winslet was offered a chance to play the lead in a historical comedy that played fast and loose with history, "Shakespeare In Love." This film went on to win Oscars left and right in a tough year due to some massive lobbying by its producer Harvey Weinstein, but it wasn't Winslet who had taken the part — it was of course Gwyneth Paltrow. "Shakespeare in Love" might not have had the box office clout of "Titanic," but it did land Paltrow an Oscar for Best Actress, a feat Winslet duplicated not until 10 years later with "The Reader."
Christopher Walken as Han Solo in "Star Wars"
Believe it or not, George Lucas wrote the part of Han Solo with Walken in mind, early on in the development of his project. But Walken had other ideas and went to work on another film called "The Deer Hunter." Bereft of his rogue, Lucas struggled until he found an actor to replace him, who was also a carpenter working on his home, a guy named Harrison Ford. Ford's presence changed the character, and in turn the entire story.
Tom Selleck as Indiana Jones in "Raiders of the Lost Ark"
Lucas has interesting ideas when it comes to his initial casting drafts. Selleck was the kind of guy they had in mind when Lucas and Spielberg were launching their retro adventure serial film. Unfortunately, they were a little late, as Selleck was contracted to a television show called "Magnum P.I." and couldn't get out of it, so he had to pass. Lucas went back to the Harrison Ford well and the rest is history.
Jack Nicholson as Michael Corleone in "The Godfather"
Nicholson seemed a great choice for the part, at least for the 1970s. But Nicholson turned it down for a reason that, at the time, seemed pretty woke: he did not want to play an Italian and take the role away from an Italian actor, especially in a film about a mob family. The whole thing could have gone sideways into a stereotypical slurry, but Nicholson never regretted his decision, believing Al Pacino's performance to be among cinema's finest.
O.J. Simpson as the Terminator in "The Terminator"
James Cameron has Lucas's luck in casting, too. Back in the early 1980s when Cameron had the idea of a time-traveling killer robot, his idea was to create a death dealer who could pass into the past unnoticed. Arnold Schwarzenegger isn't exactly what they had in mind but Cameron had his initial choice nixed by producers. Guess why Simpson wasn't cast? If you're under 30 you'll never guess. It's because he was a beloved sports star and all around good guy and producers thought that no one would buy him playing a stone cold killer.
Johnny Depp as Ferris in "Ferris Bueller's Day Off"
There is only one Ferris, and his name is Matthew Broderick. This goofy '80s comedy directed by the one-and-only John Hughes remains timeless and universally beloved, yet it could have been a very film had the role gone to Depp. At the time, Depp had earned a Hollywood bad boy reputation that made him seem perfect for the role. But he was so popular that he could not clear his schedule conflicts to be able to accept the role, even if he wanted to.
Will Smith as Neo in "The Matrix"
Will Smith could have added to his action hero repertoire had he accepted this role, but he did not, mainly because he didn't "get" the idea of it. The Wachowskis were not big name filmmakers then, and they developed some ideas that are now industry standard techniques, like "bullet time," that Smith just couldn't imagine it. But Smith has since stated he's glad he didn't take it, not just because Keanu Reeves nailed the part, but also because had he taken the lead, Lawrence Fishburne would not have gotten the role of Morpheus… it would have gone to Val Kilmer instead.