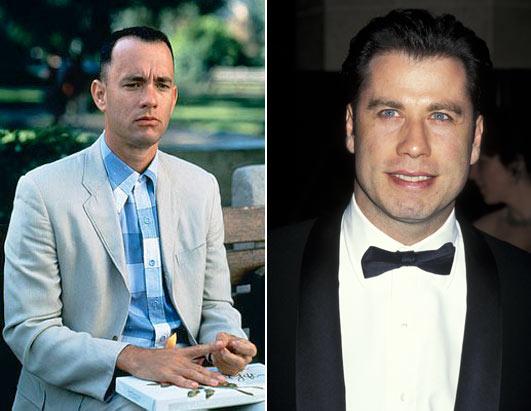 There are some movie roles that are so iconic they are irrevocably linked to the actor who portrayed them: think Sylvester Stallone as Rocky, Sigourney Weaver as Ripley, Tom Cruise as Jerry Maguire, and the list goes on. But what about the actors who got thiiis close to being cast, or worse, turned down what turned out to be an iconic role? Whether they've moved on from what could have been or are still kicking themselves for a poor decision, here are 10 actors who came this close to being cast in iconic roles.
John Travolta as Forrest Gump in "Forrest Gump"
Pretty mind blowing, huh? Yes, Travolta had first dibs at the role and turned it down. Which doesn't really make sense since at the time he was trying to make a career comeback and didn't really have a lot of choice roles to choose from. And yes, he regrets turning it down as a career blunder. Still, it gave Tom Hanks a way to continue steamrolling the box office, and Travolta would have to settle for a role in a little ensemble piece called "Pulp Fiction" instead. Considering "Pulp Fiction" resurrected his career, he made the right move!
Uma Thurman as Eowyn in "The Lord of the Rings"
Travolta's "Pulp Fiction" co-star and dance partner, Thurman noted in an interview with Stephen Colbert (a noted "Lord of the Rings" fan) that she was offered the role of Eowyn and turned it down. It's hard to believe that anyone would turn down a role in "The Lord of the Rings" trilogy, considering how the films became one of the biggest and most acclaimed franchises of all time. But you have to understand that nobody believed the project would be a success before it was made. Eowyn, the noble Rohan warrior maiden, ended up going to Australian actress Miranda Otto, who memorably slew the Witch King with the line "I am no man." It probably worked out best for audience suspense in retrospect — the Nazgul wouldn't stand a chance against The Bride from "Kill Bill."